St. Martin of Tours Commitment to Building homes in Tijuana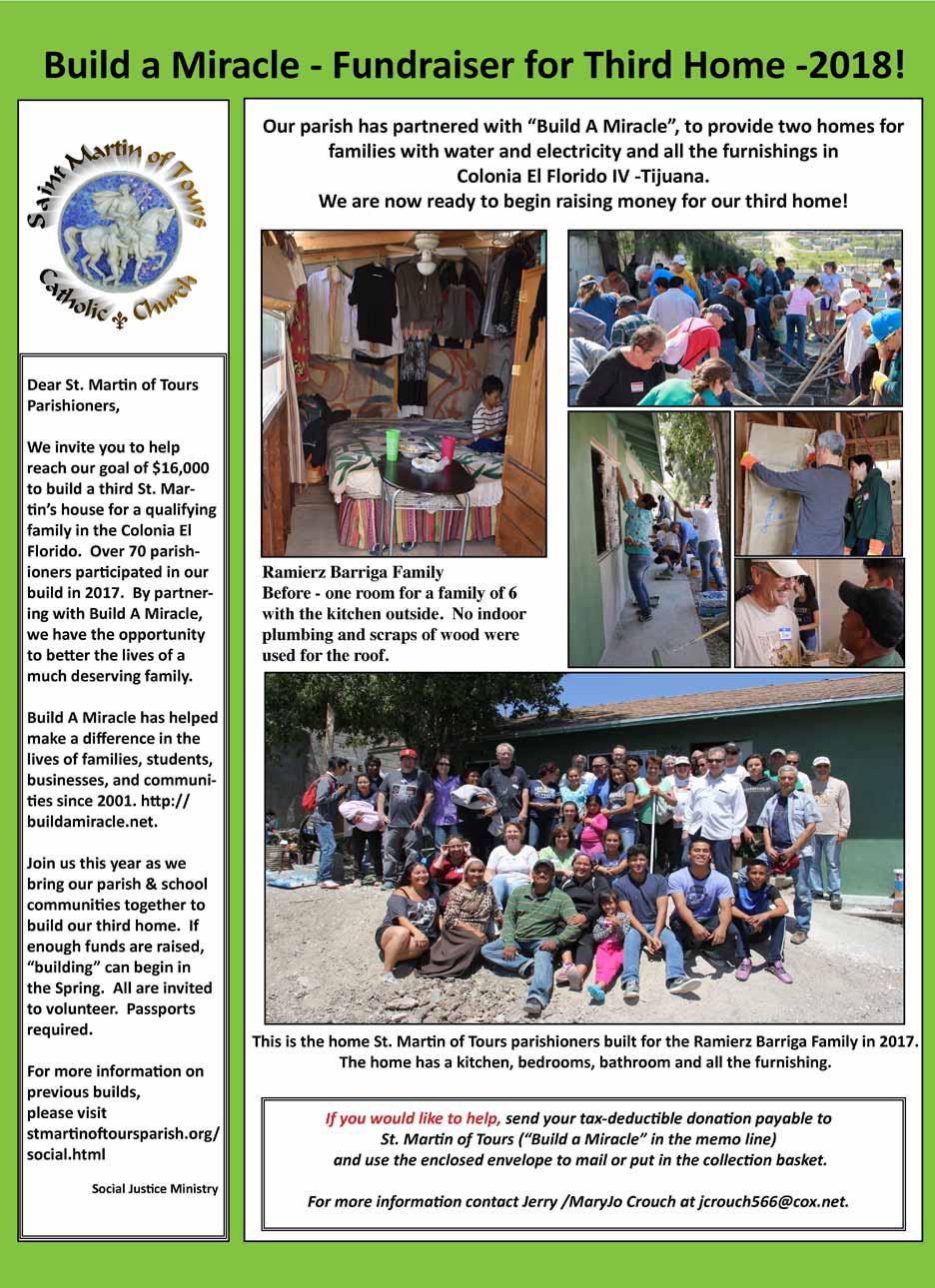 The parish of St. Martin of Tours has joined with Build a Miracle to build homes in Tijuana to better the lives of those in that community.  We raise funds and have our parish members work side by side with the people in Colonia El Florido IV area of Tijuana to build a home for a deserving family.  Families are able to move from a one room shack with a leaky tarp roof into a home with plumbing, electricity and separate rooms for family members.  And through community education, members are given help in bettering their lives.
In 2018 we hope to build the third home by St. Martin of Tours (to join the over 185 other Build a Miracle homes).  Please lend your support in any way that you can.  Nothing is too small (or too big).
Learn more about Build a Miracle
Here are reports and thank you notes from our previous builds.
Thank God and all of you, who made this possible for my new home. We have waited for years. My parents have done everything possible through struggles to come ahead and they have done this well. I am happy and grateful for this home. I consider this a birthday present since I will be turning 15 years old on April 11th. As a child, I would try to cover the holes on the ceiling to keep the rain from coming in. There were times when I could not sleep well, because my bed would get all wet. Today, I am convinced that thanks to people like you who are working hard that I will be able to sleep well without any worries or being scared. Thank you very much, I am happy. You may not notice but I will take care of this home with plenty of care more than the other. Thank you for being my protectors.
David Israel Ramirez Barriga
---
Hello,
I am grateful to God for this very special day that I have waited. I am grateful for each of you, for having such great hearts to help us realize our longing to have a dignified house. I will be grateful for each one of you, for your contributing love, great effort, time and love.
There are no words to express how grateful I am. Only, that God bless you always in your lives, children, family, work, as well as the work for this blessing of my family. I will keep you in my heart because you have left blessings in my life and family.
Thank you St. Martin's family, thank you BAM family, thank you friends – God Bless you always.
Gabriel Ramirez
Thank you, God Bless
---
On May 25, 2017, St. Martin parishioners completed a second Build -A-Miracle home. This one went to the Ramirez Barraga family.  Read by family members and translated by Flora Funk to St. Martin volunteers
GRATEFUL
First of all, thank God for each and everyone of you from St. Martin's Church for making this miracle possible and for extending your hearts with desire to help, for being very special people. You will live in our hearts forever. There are no words of gratefulness to express the love that you have awakened in our family. Thank you fore each grain of step, this great miracle. May God bless each of you and that this will multiply what you have given us. We love you and you will always be in our prayers. God bless each step that you take and may you always prosper in your journey.
One grateful heart from God and his instruments of God for blessings.
Att: Familia Ramirez-Barriga
---
---
Thank you everything, for all the love from each of you. This will stay in my heart. You made it possible for us to have a dignified and beautiful home. As I mentioned last month and I'm repeating myself, I consider this as a birthday present. I never thought this day would be possible and I still can't believe it. I don't want to get too emotional because I will start to cry. May God bless you always, may he guard and protect you.
I don't know what else to say, except thank you very much, I may not look emotional or happy but I am. I am happy emotionally content and grateful. Thank you!
Att: David Israel Ramirez Barriga
---
Hello, church of St. Martins.  Where do I start, there are so many things to be grateful since this miracle happened. I will start for being grateful to God, for all of you gracefully putting you in our lives. Because of you, our dream has become a reality. There is so much to be grateful for that one letter is not enough to express how we feel. Since this blessing began, something beautiful has happened, to see the faces of my children watching their home being formed, to see the happiness in their faces when helping. There are no words to express what we are living through. Lots of emotions. Lots of happiness. Thank you for choosing us. Really, there are no adequate words to show how grateful we are, lots of love and intervention from God, St. Martins, Juliana and Chris – the BAM community, people with warm hearts involved in this miracle.
This dream could not have been realized, to have a home that we asked God and now thanks to the goodness of your hearts, our petitions have been answered. May God bless you greatly. May he guard you in your journey each step that you will take be blessed I hope that one day, in whatever manner, that I will be able to return all that you have done for us. To never lose contact with our new family that God has given us. The gratitude that we have in our hearts, this is how much we love you.
Thank you very much, Att: Sylvia
---
Below are letters from the Ramirez-Barriga Family read by family members and translated by Flora Funk to St. Martin volunteers on March 25, 2017 while the house was still being built.
I give thanks to God for what he has brought to us and the strength and love that is given to help. I want to tell you with all my heart, that for me there are no words to express how grateful I am or all the love that you have been given to help us. To leave your homes, work, and everything that you love to come and share your love and care. I want to tell God to keep sending lots of blessings to each and every one of you. From a grain of sand, you come to help that which is necessary, I tell you God is on you side because you are creating a great labor of love. I give God thanks for your blessings to our family. Thank you very much to all for being here. May God Bless you always for being here and that God be with you wherever you go.
Thank you,
Gabriel Ramirez
---
Today I feel very happy that God has decided to put such wonderful people like you that give us your support, and your effort to help us to have a decent House since without your support it would be very difficult for my family. I thank you God for everything in our way, I have no words to thank this blessing so great that we provide in our lives and the only thing that we could contribute to show our appreciation is to support to future families with our, hands to build a miracle, thank you St. Martin for making possible the dream House, protected my children from the rain or cold, I have no words to express doing this, God bless and triple what today give us, are prosperous their paths to each pass giving, there are no words to express what my heartfelt thank you St. Martin God blessed me greatly and believe that even if at the moment of writing this letter not yet know already you are in my heart God bless you forever.
Thank you, ST. MARTIN
Silvia Esmeralda Barriga Figueroa
---
---
A letter from the Zuniga family who we built a house for in 2016
To The St. Martin Group:
Hello, good morning or good day. Hope that you find yourselves in good health, same as our family.
Since we received our house, we have been very happy and also very appreciative. Thank all of you and God for sending us such great angels that you are. Thank you for making a reality of our dreams. now, my son says his house is very beautiful. We have begun to to many things, such as saving a little money to build a porch and fill in the yard since we now have the space.
My husband will be taking his exam to enter school at the community center and my son will also be attending first grade. The baby has started to crawl and says "mama" and "papa". We hope that you will come to visit soon and that you will join us when we Baptize the baby in November. We don't have the date, but hope that you will be able to join us.
Thank you for our home that you have given us, we are very grateful and very happy. We are so lost for words. We will always keep you in our prayers and in our hearts. We love you very much and you are always welcomed and well received in our house. Our house is your house, we hope you visit to play, laugh, and talk, even if only for a short time.
God Bless St. Martin Group, with much appreciation to you from our family.
Zuniga Bartolo
Big strong hug from all of us.
---