Click on a link below for more information
---
Children's Faith Formation
(ages 4-11 years of age)
We have an outstanding Faith Formation program at St. Martin of Tours for Kindergarten through Grade 6. Our program consists of approximately 80 children from many of the different elementary schools throughout the county. We are one of the very few churches to offer religion sessions on Sunday mornings, and therefore, are very popular with parents.
We meet most Sundays from September through April each school year, from 8:15 to 10 AM. This time includes catechese for an hour, Liturgy of the Word from the Children's Lectionary and then joining families for the Liturgy of the Eucharist at the 9AM Mass.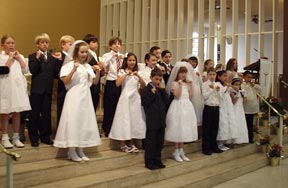 Sacramental preparation is included for First Reconciliation and Eucharist. Attendance in sessions for two years prior to reception of the sacrament is required. The program is staffed by volunteers and assistants who are of the highest caliber and donate their time, energy and talent to the program with a commitment rarely seen these days.
If you have any questions
please call Chris Davis at
(619) 698-8434 or
chris@saintmartinoftours.cc
---
St. Martin of Tours Youth Program is available to students attending 7th through 12th grades. It encompasses junior high and high school Faith Formation classes and preparation for the Sacrament of Confirmation. A major emphasis of the program is service to the parish and the larger community. Some of the activities involved with youth group are: retreats, drama productions, social activities, and community service projects such as assistance with Habitat for Humanity, Special Olympics, Soup Kitchen, etc.
For more information see our Youth Ministry webpage or contact:
Susan Skinner
(619) 698-3180 (office) or
stmartinoftoursyouth@gmail.com

---
Scripture Study
About Scripture Study
Scripture is read, studied, and discussed in small groups using the "Little Rock Scripture Guide" as a basis. Facilitators conduct groups which meet weekly. Daily prayer and reflection is encouraged.
Bible Study Groups
Little Rock Scripture Study has ongoing bible study groups at various times through the year.
If you would like to join one of the groups or obtain more information please call the
Parish Office (619) 465-5334 or check the parish bulletin.