For more information, please contact:
Flora Funk at (619) 957-4388
swtpea713@hotmail.com
Minutes of Social Justice Ministry meetings

2015-2017

| | | | |
| --- | --- | --- | --- |
| Feb 19, 2017 | Jan 13, 2016 | Feb 1, 2015 | |
| May 21, 2017 | Feb 7, 2016 | May 31, 2015 | |
| Sept 10, 2017 | April 10, 2016 | Aug 16, 2015 | |
| | Aug 21, 2016 | Nov 15, 2015 | |
| | | | |
| | | | |

The Social Justice Ministry has as its purpose to affirm and foster human life and the dignity and rights of all people.  It works to increase awareness of needs in the local as well as the global community and to promote Catholic Social Teaching.  Our goal is to be proactive in addressing social concerns and in caring for the poor and oppressed.The committee meets bi-monthly following the 9:00 Sunday Mass.  It sponsors a Lenten series of speakers representing groups who minister to those in need both locally and in mission areas.  In addition, the SJM sponsors a monthly "loose change collection" on the first Sunday of each month for the poor, for victims of natural disasters, for orphanages, and many other ministries who address those in need.  Many donations are made through Catholic Relief Services.

All parishioners are encouraged to get involved.  We invite you to attend our meetings and/or be a member of e-Link an electronic newsletter from the Diocesan Office of Social Ministry that lists monthly information of events in the parishes of San Diego.    socialministrysandiego.com

We also welcome suggestions of ways to address needs in our community.

---
The Social Justice Ministry brings several opportunities for parishioners to live their Catholic faith through donations, involvement, and education.
FIRST SUNDAY LOOSE CHANGE COLLECTION
SJM and the parish support the following ministries through your donations.
An average collection of $700-$1000 per month has been continuous for twelve years.

On July 19, 2017, five members of the Social Justice Committee visited the organizations that St. Martin of Tours parishioners support in Tijuana through the loose change collection on the first Sunday of the month.

Luisa Dunn, our invaluable drive and translator, Jerry & Mary Jo Crouch, Anne Pacheco and Bridget Slatten visited Responsibility, Casa de los Pobres, Casa de Migrante, Instituto  Madre Asunta and Hogar Infantil.  We were welcomed at each site and had tours at each facility.  All of us were impressed with every organization, as they help the poorest of the poor, the abandoned, the immigrants and refugees.

Responsibility          responsibilityonline.org

For over 30 years their schools have given more than 6,000 children who live in and near Tijuana's vast municipal garbage dumps a horizon beyond the smell, flies, and refuse.

Felipe welcomed our group and explained that it was a field trip day for the children and they would be coming soon.  This is part of the summer camp that our parish has contributed to in the past. The facility was clean, children sit in chairs – no desks, 3 computers were available and some books.  A primary school was built by the government next door and the children, after graduating preschool & kindergarten attend there.   Children in both schools are fed a meal each day from donations that come from various churches and the community.  Local volunteers assist daily and even those disabled or very old, benefit from these meals.  Parents still work at the dump however "the working dump" is now located in east of Tijuana.

---

Casa del Migrante     migrante.com.mx/tijuana

Casa del Migrante en Tijuana, A.C. was founded in 1987, and is a faith-based non-profit temporary shelter run by the Scalabrinian Priests.  The facility provides assistance to men who have been deported back to Mexico from the United States. Oftentimes these men return Tijuana with no money and no way to get back to their home. They receive 3 meals a day, a shower, clean clothing, and are allowed to stay at the center for up to 12 days.  The center also provides medical care, counseling, resources for job training and placement, and spiritual guidance.

A controversial issue at best for some …. we at St. Martin's opened our minds and hearts to the migrant.  Father Pat Murphy spoke at our Lenten Speaker Series (2017) and we learned the plight of the migrants.  Though we are not in their shoes, we have compassion and this is where we can begin to help.  During this tour, we also learned of the Institute Madre Asunta two doors down the street that assists women and children who have been deported.

---

Instituto Madre Asunta, A.C.

Mission: Centro Madre Asunta practices the teaching of Jesus Christ which is to love thy neighbor as our selves and to see the face of Christ in each migrant that is helped. The facility is run by the Scalbrinian Missionary Sisters.
Number Served: 600 per year.

The Center was the first in Tijuana to establish a method of providing dignified assistance to women and children who have been displaced after deportation from the United States or are migrating from central Mexico.  The Center provides three meals per day, clothes, shoes, legal assistance, psychological care, spiritual and medical assistance, as well as access to phones.  The Center has been in existence for 17 years and has helped 17,000 migrant women and children.

Walking two doors down from Casa del Migrante, we were greeted by Sister Adelia Contini, Director of the facility. She welcomed us and gave us a tour.   As like the rest of our stops, the facility was immaculate.  They were preparing lunch for the women and children which also included husbands that had been deported and staying at Casa del Migrante.

Our committee is considering 75% of the loose change collection to Casa del Migrante and 25% to go to the Instituto Madre Asunta, A.C.

Casa de los Pobres        casadelospobresusa.com

The name means "House of the Poor" in Spanish.  It was originally founded in 1957 by Franciscan Sisters in the Colonia Altamira neighborhood of Tijuana, Mexico.  For more than 50 years, Casa de los Pobres has served the "poorest of the poor" in Tijuana.
Casa de los Pobres is located close to downtown Tijuana.  Seminarian Sean Barry met with our group.  He is from the mid-west and was volunteering for the summer at the "casa" and is hosted by Our Lady of Guadalupe parish.

He took us to the clinic, gave us an update on the work of the Franciscan sisters.   The Casa serves thousands of meals each month.

June 2017 stats:

21,565 people of all ages were served hot meals in the Dining Room
Many people received handouts of food daily
1,350 General Medical Clinic and prescriptions filled
2,050 bags of groceries were given
1,680 families obtained clothes and house supplies
386 people personally attended in Social Service office
Groups came to do haircuts
26 Scholarship aids

Additional Information of Interest:

Many of our diocesan schools (including St. Martin's) contribute to the Halloween candy collection for Casa de los Pobres.  The candy is collected by the Alumni of Notre Dame.

The candy becomes a part of the Christmas distribution at the Casa. The Sisters of the Franciscan Missionaries of Our Lady Queen of Peace coordinate an annual Christmas distribution where 1,500 impoverished families receive a chicken, rice, beans, canned vegetables and fruit, and a bag of candy to make the festivities a little sweeter.  Families also receive blankets, jackets, shoes and toys for the children.

---

Hogar Infantil La Gloria     hogar-infantil.org

Hogar Infantil La Gloria is an orphanage located in the community of La Gloria in Tijuana. It serves as the full time home for children placed by the Mexican Government Social Services Agency known as DIF.  While in the care of Hogar Infantil, the children are provided with a quality education, psychological attention, as well as a safe and secure environment in which to develop and grow.We were greeted by one of the employees who was happy to show us the facility.  There were 11 babies (2 years and younger) that had been abandoned and left in control of the Mexican government.  The government decides which orphanage they will go to among the 11 or 12 in La Gloria.  In addition to the babies, twenty children between the ages 3-16 live here. Speaking for our group, we could have taken all of them home with us.
Build-A-Miracle
Building homes in Tijuana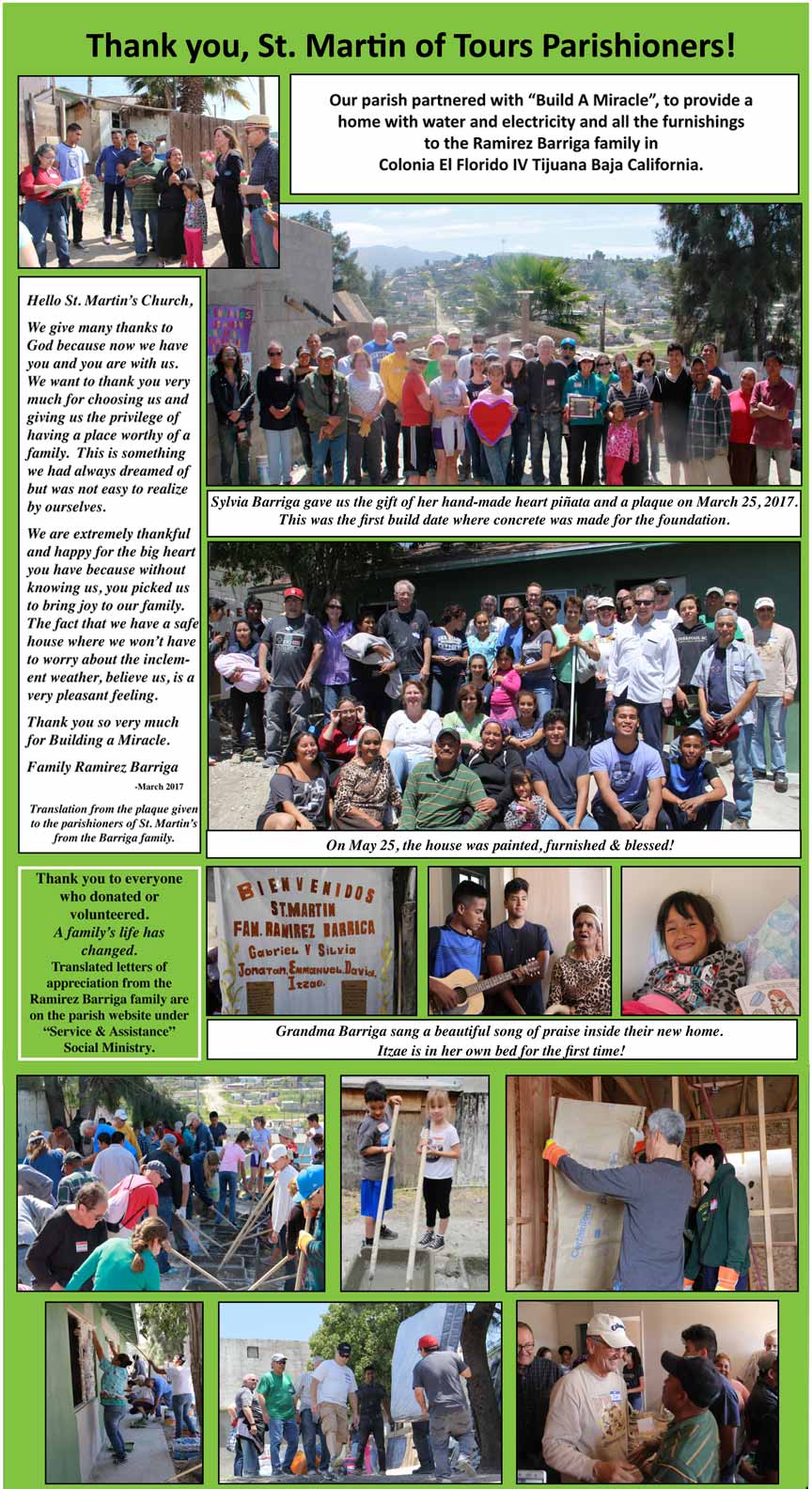 Thank God and all of you, who made this possible for my new home. We have waited for years.My parents have done everything possible through struggles to come ahead and they have done this well. I am happy and grateful for this home. I consider this a birthday present since I will be turning 15 years old on April 11th. As a child, I would try to cover the holes on the ceiling to keep the rain from coming in. There were times when I could not sleep well, because my bed would get all wet. Today, I am convinced that thanks to people like you who are working hard that I will be able to sleep well without any worries or being scared. Thank you very much, I am happy. You may not notice but I will take care of this home with plenty of care more than the other. Thank you for being my protectors.
David Israel Ramirez Barriga
Hello,
I am grateful to God for this very special day that I have waited. I am grateful for each of you, for having such great hearts to help us realize our longing to have a dignified house. I will be grateful for each one of you, for your contributing love, great effort, time and love.
There are no words to express how grateful I am. Only, that God bless you always in your lives, children, family, work, as well as the work for this blessing of my family. I will keep you in my heart because you have left blessings in my life and family.
Thank you St. Martin's family, thank you BAM family, thank you friends – God Bless you always.
Gabriel Ramirez
Thank you, God Bless
A letter from the Zuniga family  who we built a house for in 2016
To The St. Martin Group:
Hello, good morning or good day.  Hope that you find yourselves in good health, same as our family.
Since we received our house, we have been very happy and also very appreciative. Thank all of you and God for sending us such great angels that you are. Thank you for making a reality of our dreams. now, my son says his house is very beautiful. We have begun to to many things, such as saving a little money to build a porch and fill in the yard since we now have the space.
My husband will be taking his exam to enter school at the community center and my son will also be attending first grade. The baby has started to crawl and says "mama" and "papa". We hope that you will come to visit soon and that you will join us when we Baptize the baby in November. We don't have the date, but hope that you will be able to join us.
Thank you for our home that you have given us, we are very grateful and very happy. We are so lost for words. We will always keep you in our prayers and in our hearts. We love you very much and you are always welcomed and well received in our house. Our house is your house, we hope you visit to play, laugh, and talk, even if only for a short time.
God Bless St. Martin Group, with much appreciation to you from our family.
Zuniga Bartolo
Big strong hug from all of us.
In May, 2017, St. Martin parishioners completed a second Build -A-Mirale home. This one went to the Ramirez Barraga family. Thank you to St. Martin for funding and building this home to do as Jesus would have done.May 25, 2017 letters from the Ramirez-Barriga Family read by family members and translated by Flora Funk to St. Martin volunteers
(the day the house was completed)GRATEFUL
First of all, thank God for each and everyone of you from St. Martin's Church for making this miracle possible and for extending your hearts with desire to help, for being very special people. You will live in our hearts forever. There are no words of gratefulness to express the love that you have awakened in our family. Thank you fore each grain of step, this great miracle. May God bless each of you and that this will multiply what you have given us. We love you and you will always be in our prayers. God bless each step that you take and may you always prosper in your journey.
One grateful heart from God and his instruments of God for blessings.
Att: Familia Ramirez-Barriga
---
First of all, thank you everything, for all the love from each of you. This will stay in my heart. You made it possible for us to have a dignified and beautiful home. As I mentioned last month and I'm repeating myself, I consider this as a birthday present. I never thought this day would be possible and I still can't believe it. I don't want to get too emotional because I will start to cry. May God bless you always, may he guard and protect you.
I don't know what else to say, except thank you very much, I may not look emotional or happy but I am. I am happy emotionally content and grateful. Thank you!
Att: David Israel Ramirez Barriga
---
Hello, church of St. Martins where do I start, there are so many things to be grateful since this miracle happened. I will start for being grateful to God, for all of you gracefully putting you in our lives. Because of you, our dream has become a reality. There is so much to be grateful for that one letter is not enough to express how we feel. Since this blessing began, something beautiful has happened, to see the faces of my children watching their home being formed, to see the happiness in their faces when helping. There are no words to express what we are living through. Lots of emotions. Lots of happiness. Thank you for choosing us. Really, there are no adequate words to show how grateful we are, lots of love and intervention from God, St. Martins, Juliana and Chris – the BAM community, people with warm hearts involved in this miracle.
This dream could not have been realized, to have a home that we asked God and now thanks to the goodness of your hearts, our petitions have been answered. May God bless you greatly. May he guard you in your journey each step that you will take be blessed I hope that one day, in whatever manner, that I will be able to return all that you have done for us. To never lose contact with our new family that God has given us. The gratitude that we have in our hearts, this is how much we love you.
Thank you very much, Att: Sylvia
Below are letters from the Ramirez-Barriga Family read by family members and translated by Flora Funk to St. Martin volunteers on March 25, 2017
---
I give thanks to God for what he has brought to us and the strength and love that is given to help. I want to tell you with all my heart, that for me there are no words to express how grateful I am or all the love that you have been given to help us. To leave your homes, work, and everything that you love to come and share your love and care. I want to tell God to keep sending lots of blessings to each and every one of you. From a grain of sand, you come to help that which is necessary, I tell you God is on you side because you are creating a great labor of love. I give God thanks for your blessings to our family. Thank you very much to all for being here. May God Bless you always for being here and that God be with you wherever you go.
Thank you,
Gabriel Ramirez
---
Today I feel very happy that God has decided to put such wonderful people like you that give us your support, and your effort to help us to have a decent House since without your support it would be very difficult for my family. I thank you God for everything in our way, I have no words to thank this blessing so great that we provide in our lives and the only thing that we could contribute to show our appreciation is to support to future families with our, hands to build a miracle, thank you St. Martin for making possible the dream House, protected my children from the rain or cold, I have no words to express doing this, God bless and triple what today give us, are prosperous their paths to each pass giving, there are no words to express what my heartfelt thank you St. Martin God blessed me greatly and believe that even if at the moment of writing this letter not yet know already you are in my heart God bless you forever.
Thank you, ST. MARTIN
Silvia Esmeralda Barriga Figueroa
Lenten Speaker Series
and CRS Rice Bowl Collections
Sponsored by Social Justice MinistryTo put our faith into action, the Social Justice Committee
invites parishioners to learn about the many ways we can
make a difference for those in need.
During the Fridays of Lent, guest speakers are invited to
explain the services their respective ministries provide.
2015 Lent Speaker Series and CRS Rice Bowl Program Photos
Some of the ministries represented include:
| | | |
| --- | --- | --- |
| | • St. Vincent de Paul Villages | • The Guatemala Project |
| | • Catholic Charities | • The Tomorrow Project |
| | • Catholic Relief Services | • Habitat for Humanity |
| | • Responsibility | • Survivors of Torture |
| | • San Diego Catholic Worker | • Noah Homes |
| | • Assisting Undocumented Children | • Mercy Outreach |
| | • Interfaith Shelter Network | • Toussaint Academy |
| | • Hogar Infantil | • Friends of the Poor |
| | • International Relief Teams | • Fair Trade San Diego |
| | • Marist Sisters Safe House | • Build a Miracle |
| | • Culture of Life Family Services | • College Area Pregnancy Services |
| | • Interfaith Committee for Worker Justice | • Children of the Immaculate Heart |
| | • Detention Ministry | • Casa del Migrante |
| | • Rachel's Women's Center | • International Rescue Committee |
| | • "Get on the Bus" – Restorative Justice | |
The Lenten series is preceded by a fish taco dinner in Barry Hall.

A few members of the St. Martin of Tour Social Justice Ministry before one of the Lenten Friday dinners.

CRS Rice Bowls provide funds for Catholic Relief Services to help those around the world in times of need and crisis when you put in your donations. Put in a little or a lot, it all helps. $9001.00 was collected at St. Martin and given to CRS Rice Bowl in 2017 (Thank You). In addition to Rice Bowl collection boxes being handed out at our Friday Lenten Speakers Series, they aare also handed out after Masses during Lent so everyone can participate. You can donate any time of the year as well:
crsricebowl.org
---
A Fair Trade Parish and School in La Mesa
La Mesa has been a fair trade city since October 2012.
The idea being that as a community we do all that is possible through word
and hopefully action to reinforce the concept of fair trade of goods.
You can find information on this pivotal movement here: Fair Trade Town.
Saint Martin of Tours Parish and Academy is also honored
to be listed as a fair trade location on their map of La Mesa.
We stand behind the fair trade ethos and do what we can to buy fair.
Fair Trade coffee is used throughout the parish ministries including Bingo.
The Academy also supports Fair Trade fundraisers through the 
Work of Human Hands and Equal Exchange catalog sales.
We invite parishioners to follow, get announcements and learn how they can participate.
St. Martin Fair Trade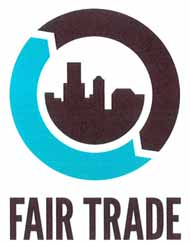 Social Justice's role
in promoting Fair Trade
What is St. Martin doing?
Anne Pacheco participated in two
radio shows. Listen to learn more.
April 2012 (8 minutes)
October 2015 (50 minutes)
5th grade academy students
learn about Fair Trade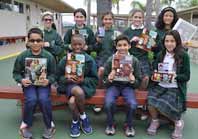 The Fair Trade 2016 event at St. Martin of Tours was a great success
and was mentioned in the November 2016 issue of the San Diego Family Magazine.
Pick up a copy or read it on line:
https://issuu.com/sandiegofamil…/…/nov_2016_digital_issue/28
Alternative Gift Fair
The Social Justice Committee sponsors an annual
Alternative Gift Fair in the Fall featuring beautiful Fair Trade items
from around the world. In addition to the Fair Trade certified gift
items, several nonprofit organizations bring handmade items from
developing countries for sale.
back to top of Social Justice Ministry page
---
Thank you letters from organizations your loose change has helped.
"Santa Letters"
Thank you to all the parishioners who donated "loose change" to fulfill the "Santa Letter" requests of the children who live in the surrounding area around Responsibility.  Social Ministry members, Denise Pippin and Dennis Andolsek gave the check to Director, David Lynch on Dec. 4 for $933.00!
He stopped by the school to pick up the "Santa" gifts and shared the story how he began Responsibility.   Our school, youth group and preschool filled 41 Santa letters from children who live around the Tijuana dumpsite.  Thank you to all those who made donations for these children.